PPS LEAVE ACCRUAL AND USAGE OVERVIEW

Effective November 1, 2015 UC Berkeley implemented Factor Leave Accruals, a new method of calculating leave accruals for eligible non-exempt and exempt staff employees.  Academic Staff are not subject to factor leave accruals and eligible Academic staff continue to accrue leave based on the Academic Personnel Policy. CalTIme is the standardized timekeeping system in which the majority of campus records leave usage which is electronically sent to the payroll system. The Payroll System(PPS) is the system of record for calculating leave accruals as well as updating CalTime with leave balance amounts every pay cycle.
---
Overview of Leave Accruals, Usage, and Balances
Eligibility and Leave Codes
Eligibilty for leave accruals are based on union contracts and policy which can be found on the human resource website.  An employee is assigned a leave code in the Human Capital Management System (HCM). The leave code represents a rate of leave accrual which passes to the payroll system.
Leave Accrual
Vacation and sick leave accruals in PPS occur in two ways: automated accrual and manual adjustments processed by timekeepers. Compensatory time accruals are not automatic, but must be entered into OPTRS by the timekeeper.
Automated Accrual Process
Automatic vacation and sick leave accruals are based on the employee's Leave Accrual Code and eligible time on pay status. The Leave Accrual Code assignment in HCM Job Information is passed to PPS, where it is displayed on the IAPP (EDB Inquiry Appointment/Distribution) screen (labeled "Lv"). The following leave code tables show how Leave Accrual Codes translate to the number of hours of vacation and sick leave the employee is eligible to accrue through the automated process.
The following credit tables illustrate how time on pay status affects the vacation and sick leave accrual calculation:
Note: For Academic employees, refer to the Academic Personnel Policy for Leave Accrual information.
Earnings adjustments for prior periods may impact an employee's leave eligibility. When the department processes earnings adjustments, PPS attempts to automatically adjust leave accruals. Automatic adjustment is dependent on the following conditions:
The distribution number must be entered on the

OPTRS

screen, so the system can determine the Leave Plan Code associated with the employee appointment.

The earnings period must be within the last year.
Adjustments to eligible time on pay status outside the 12-month period may require departmental accrual adjustments in OPTRS.
Compensatory Time Accrual
Compensatory time accruals in PPS are not automatic. When an employee earns compensatory time, the departmental OPTRS preparer enters the number of hours on the Leave Roster (if compensatory time was earned in the prior month) or the EDLR screen (if compensatory time was earned earlier than the prior month) using a Description of Service (DOS) code of CTA.
---
Leave Usage
Leave usage is reported in arrears, in the Semi-monthly (SM) cycle. When an employee uses vacation, sick leave, or compensatory time, the preparer records the number of hours on the appropriate OPTRS screen.
Proration of Vacation and Sick Leave Usage
Financial Leave Accrual requires that vacation and sick leave usage be prorated across all distribution chartstrings from which an employee receives eligible pay. To reduce departmental effort, UCB implemented automatic leave usage proration. For employees with multiple distributions, the preparer enters the entire vacation and sick leave usage in the first distribution. The system automatically prorates usage across all distribution chartstrings for which eligible time was reported for that month.
Use of the automated proration capability for prior period adjustments is limited to two prior months of activity. Adjustment activity beyond two prior months requires manual proration using OPTRS EDLR (LX/RX). For example, for the July 2005 reporting cycle, manual proration would be required for any leave taken in the month of April 2005 or before. Use DOS codes of VAC and SKL when manually prorating these adjustments.
Compensatory Time Usage
Compensatory Time usage must be manually prorated across distribution chartstrings as appropriate.
---
OPTRS Leave Transactions
OPTRS Leave Roster
During the Semi-monthly cycle of the 15th of each month, the preparer records the following information on the OPTRS Leave Roster:
Vacation and sick leave used in the prior month

Vacation and sick leave accrual adjustments for the prior month

Compensatory time used and/or accrued in the prior month
The Leave Roster includes employees with a valid Leave Accrual Code in PPS, based on their "Home" Department. For determination of an employee's "Home" Department relationship, see the Primary Job/Home Department Decision Table.
If an eligible employee is not on the Leave Roster, the department must update HCM so that the employee will appear the following month. (Check "Home" Department and Leave Code assignment in HCM.) To record leave usage for an employee who does not appear on the Leave Roster, use the EDLR screen (see "Leave Adjustments on the Late Pay/Reduced Pay (EDLR) Screen" section below). Departments employing a shared employee must coordinate leave reporting activity with the Home Department.
For sample screens and detailed instructions, refer to the Leave Roster Reference Card on the OPTRS Reference Materials web site.
Leave Adjustments on the Late Pay/Reduced Pay (EDLR) Screen
Leave usage and accrual adjustments for periods earlier than the prior month are recorded on the EDLR screen. The EDLR screen is used to enter the following types of leave adjustment transactions:
an adjustment in vacation or sick leave accrual

an adjustment in vacation or sick

leave

usage

an adjustment in compensatory time accrual or usage

compensatory time paid out
Refer to the sample EDLR screen below and the EDLR Reference Card (PDF) for more details.
The combination of DOS (Description of Service) Code and Transaction Type (LX or RX) entered on the EDLR screen determines how the transaction will impact the employee's leave balance. The following chart shows the effect of each DOS Code/Transaction Type combination. For example, a DOS Code of SKX with a Transaction Type of LX decreases the employee's sick leave balance. Note that the RX transaction type may not be used with the automatic proration DOS codes, VAX and SKX.

Example of Leave Adjustments on ELDR Screen
A departmental audit revealed some discrepancies with Paula Gray's leave balances in PPS. Her balances will need to be adjusted using the EDLR screen.
Paula's accrual is overstated in PPS. PPS shows that Paula's vacation balance is 220 hours. Departmental records show that her vacation balance is 180 hours.

A one-time adjustment of 40 hours is needed to reconcile departmental records with PPS.

On the EDLR screen, a DOS code of VLA is used with a transaction type of RX to reduce Paula's vacation balance in PPS.


---
Leave Reporting
Time Benefits Roster
Each month, after leave activity is processed in the SM cycle, a Time Benefits Roster report (PPP6401) is mailed to each home department. The Time Benefits Roster shows each employee associated with that Home Department, along with their leave balances and activity.
The employee's vacation and sick leave ending balance on the Time Benefits Roster is a "snapshot" that includes all usage recorded and accrual posted in all payroll cycles up to and including the SM (Semimonthly) cycle of the 15th of the month. The balances in the sample report shown below represent:

The report includes all transactions processed in the following cycles, regardless of the earnings period:
SM 04/15/05

XX 04/11/05

MO 03/31/05

MA 03/31/05
Sample Time Benefits Roster
Time Benefits Roster Report Columns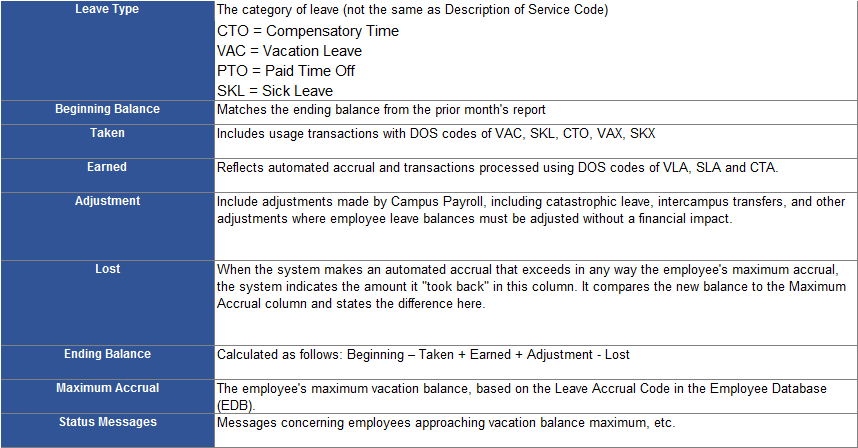 ---
Financial Leave Accrual Program
The Financial Leave Accrual program established a central leave liability account to fund expenses associated with vacation. Effective July 2004, leave accrual results in a debit to the employee's departmental chartstring(s) and a credit to the central leave liability account. Conversely, when vacation usage is recorded, the central leave liability account is debited and the departmental chartstring(s) associated with the employee's usage is credited. More detailed Financial Leave Accrual documents are available on the Payroll Web site.
Leave Accrual Codes
Review respective personnel policies and labor contract language for leave eligibility and policy.
Staff and Academic Labor Contracts

Personnel Policies for Staff
Valid Leave Plan Codes for Staff

Valid Leave Plan Codes for Former A&PS Employees Grandfathered with Pre-07/01/96 Vacation Rates

NOTE: Staff employees are given a higher accrual rate for vacation as they accumulate service.
Valid Leave Plan Codes for Academic Appointees

1Fiscal Year non-Senate, e.g., Professional Researchers, Specialists
2Fiscal Year Faculty, including Agronomists
3All Academic Year appointees, e.g., Professors, Lecturers, OR those who do not meet the minimum qualifying service.*
*Minimum Qualifying Service for Fiscal Year Appointees:
Students: Appointment is for 12 consecutive months or more at 50% time or more
Non-Students: Appointment is for 6 months or more at 50% time or more