How to Copy a Journal
The following is a step-by-step process to copy a journal in the BFS system. Begin by logging into the BFS system. At the BFS User Navigation homepage, choose the General Ledger tile.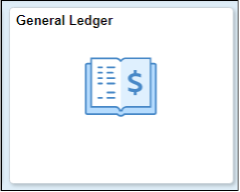 1. Click the tab "Find an Existing Value".
2. Enter the search criteria in the applicable field(s) to set parameter details for journal to be copied.
3. After search criteria is set, click "Search". Then select the journal you want to copy.